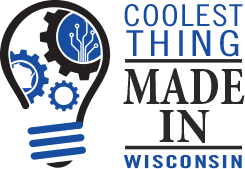 Fisher Barton Nominated for TOP 16 Cool Things Made In Wisconsin
Fisher Barton's LaserEdge® Lawn Mower Blade Chosen as a Top 16 Contender in the 2023 Coolest Things Made In Wisconsin Contest
Watertown, WI – September 27, 2023 – Fisher Barton, the world's leading manufacturer of lawn mower blades, is thrilled to announce that its innovative LaserEdge Lawn Mower Blade has been selected as one of the Top 16 contenders in the prestigious 2023 Coolest Things Made In Wisconsin contest. Organized by the Wisconsin Manufacturers & Commerce (WMC) in partnership with Johnson Financial Group, this annual competition celebrates the outstanding manufacturing achievements in the state of Wisconsin.
The Coolest Thing Made In Wisconsin contest, which has been in operation since 2016, has become a beloved tradition in the state, with Wisconsinites casting over 1.1 million votes since its inception. Last year alone, more than 150 remarkable products were nominated, and the contest garnered over 150,000 votes to determine the ultimate winner.
"We are immensely proud to have our LaserEdge Lawn Mower Blade recognized as one of the Top 16 contenders in the 2023 Coolest Things Made In Wisconsin contest," said Scott Hoffman, CEO of Fisher Barton. "This achievement is a testament to the innovative spirit and the expertise in materials science that drives us to create products that truly stand out in the industry. We are excited to compete against the best in Wisconsin and demonstrate the remarkable qualities of our LaserEdge blade."
Fisher Barton's LaserEdge® Lawn Mower Blade stood out among 100 other remarkable products nominated earlier this month. The competition begins with a popular vote to determine the top contenders, which then proceeds to the Manufacturing Madness tournament-style bracket. In this thrilling head-to-head competition, the Top 16 Wisconsin-made products vie for the coveted title of the Coolest Thing Made in Wisconsin.
Today, it was announced that Fisher Barton from Watertown, WI has secured the #16th seed in the Manufacturing Madness Bracket. The company will face off against the formidable #1 seed, Plexus, based in Appleton, WI. This exciting matchup promises to showcase the incredible innovation and craftsmanship that Wisconsin's manufacturing sector has to offer.
The winner of the 2023 Coolest Things Made In Wisconsin contest will be revealed during Manufacturing Month in October. Fisher Barton's LaserEdge Lawn Mower Blade is honored to be among the elite group of contenders, and the company looks forward to the opportunity to showcase its commitment to excellence in manufacturing.
Fisher Barton invites everyone to participate in the upcoming voting rounds at: https://www.madeinwis.com and support Fisher Barton's LaserEdge Lawn Mower Blade on its journey to become the Coolest Thing Made In Wisconsin. Stay tuned for updates as the competition progresses.
For more information about Fisher Barton and all our cool products please visit www.fisherbarton.com. About Fisher Barton — Fisher Barton is a metallurgical innovation partner for high wear and cutting components. Our expertise stems from our world-class talent who understand the behavior of material and the application of proprietary heat treating and thermal spray solutions that reimagine a component's lifespan beyond the core manufacturing capabilities of stamping, bending, forming, cutting, welding, machining, and casting. Eight locations in Wisconsin, Illinois, and Vietnam innovate blades and turf care components, bronze motion control products, industrial knives, and various other wear components. Fisher Barton is more than a source for high-quality parts; Fisher Barton is your partner for the highest quality solutions found —anywhere.