ENGINEERED COATING SOLUTIONS: ADDING MORE VALUE, OPTIMIZING PERFORMANCE
Engineered coatings enhance the performance of a component by providing superior surface properties. Coatings can withstand wear mechanisms such as galling, abrasion, erosion, adhesion, fretting, and corrosion. Coatings can also provide surface characteristics such as electrical insulation or electrical conductivity. Surfaces can also be designed to protect against high-temperature oxidation and can expand the operating temperature range of the part.  Without a doubt, engineered coatings can greatly improve the value of many components.
At Fisher Barton, we offer quality engineered coating solutions for a variety of applications. Our Thermal Spray Technologies (TST) division, has the materials engineering expertise, and surface engineering knowledge that can optimize the value of your components.
Wear Resistant Coatings
Wear is caused by mechanisms such as abrasion, erosion, adhesion, fretting, and cavitation. Developing proper wear-resistant coatings requires in-depth knowledge of these mechanisms and the factors behind them. Wear coating services are critical to many industries, including:
Mulch pulverizing
Power generation
Cement
Grain processing
Agriculture
Steel
Wear-resistant coatings such as carbide can be applied to simple components like bolts in agricultural machinery and complex components like jet engine compressor blades. In fact, carbide-coated bolts in agricultural combines are crucial to extending bolt service life and preventing machine damage. Other materials used in wear-resistant coatings include metal oxides like chromium oxide, which is hard and highly resistant to chemical attacks.
The experts at Fisher Barton have a wealth of experience in materials engineering and deposition methods to enhance the surface properties of your components. We can provide application-specific solutions tailored to your exact needs.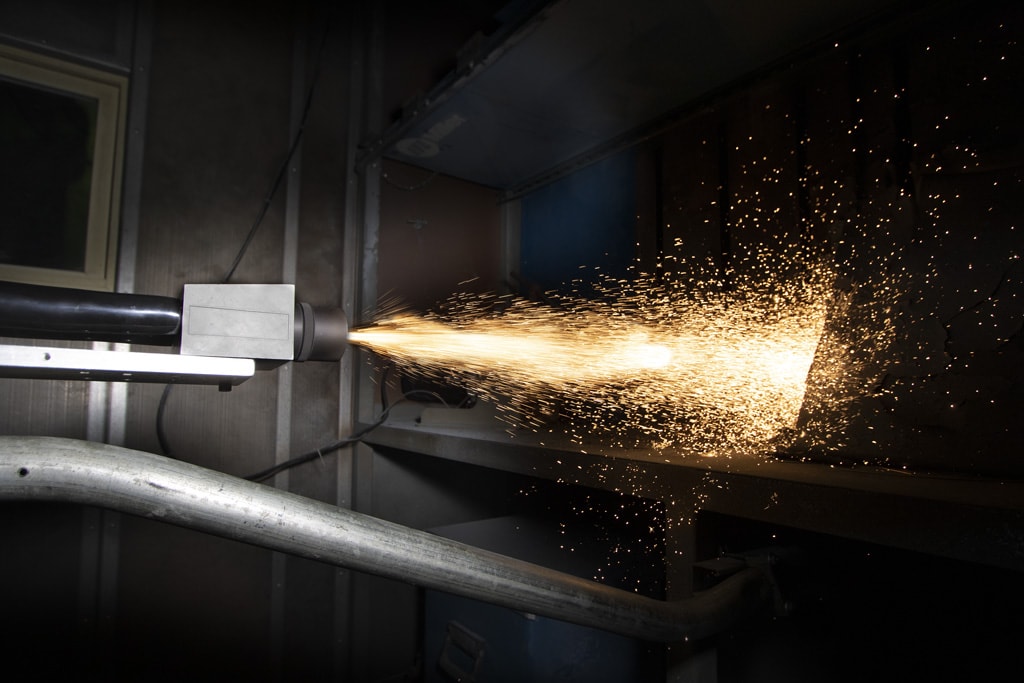 Corrosion Resistant/Protective Coatings
To select the right corrosion-resistant coating, it is important to understand the characteristics of the corrosive setting that threatens the structures or components that need protection. These structures may include pipelines, plant equipment, and bridges.
Corrosion protection is commonly used on components as large as coastal bridges, automobile parts, and windmills. The marine, mining, and industrial sectors often use protective coatings to prevent damage from chemicals, saltwater, and humidity.
Dielectric Coatings
At TST Engineered Coating Solutions a division of Fisher Barton, we create dielectric coatings that meet the most stringent performance requirements, including those needed in the defense, aerospace, medical, and semiconductor industries. Some of the applications of dielectric coatings include corona suppression in high voltage systems, semiconductor heat sinks, free-standing electrical insulators, and fabricating thermal spray resistance heaters. Other applications include:
Substrates for sprayed electrical conductors
High-temperature strain gauges
Gene sequencers
Telescopes
Blood analyzers
Spectroscopes
Semiconductor wafers
Weapon sights
Electrically Conductive Coatings
Electrically conductive coatings can help offer different degrees of electrical conductivity to various materials like polymers and ceramic composites. The coatings help create:
Heating elements
Slip rings
Ground straps
Contact points
Static dissipative elements
Commutator segments
Flexible circuits
In-situ thermocouples
Conductive coatings can be applied to nearly any substrate, imparting electrically conductive properties to these surfaces. These coatings can enhance the electrical conductivity of less conductive metallic substrates, thus eliminating the need to manufacture or purchase new components made of more conductive materials.
FluxFuse®
A Fisher Barton proprietary process, FluxFuse minimizes distortion and warping of components found in typical open-air fusing, while providing consistent, uniform fusing conditions for adhering thermal spray wear coatings to the component base material.
Superior fusing of a wear coating results in a much stronger coating bond and, ultimately, increased wear component performance and durability. Combining Fisher Barton's patented MARBAIN® base material with FluxFuse combines the best of the materials and coatings worlds, offering a world of new opportunities for longer life and improved performance.
FUSIONbond®
A TST proprietary post-coating heat treatment done in controlled atmosphere to promote coating diffusion into the coated component to create a metallurgical bond and promote diffusion within the coating to almost eliminate coating porosity. The FUSION bonded coating with its tenacious metallurgical bond can withstand high impact, and the high-density coating provides enhanced wear and corrosion resistance.
Contact Fisher Barton for Quality Engineered Coating Solutions
At Fisher Barton, we are committed to offering industry-specific TST engineered coating solutions and metallurgy services. We use a wide range of materials to give your parts, components, and structures surface properties that meet or exceed industry standards. Contact us today for high-quality engineered wear coating services.