ENGINEERED COATING SOLUTIONS: ADDING MORE VALUE, OPTIMIZING PERFORMANCE
Today the search for a better mousetrap doesn't end where it used to. Design engineers are pushing the envelope even further with engineered surface treatments to create products that perform like never before.
No wonder the latest engineered coatings are found everywhere: delivering greater thermal protection in a new generation of jet engines, adding thousands of hours to the life of wear parts in harvesting equipment, right down to the electrical insulation  a surgeon's electro-surgical instrument. Finding and applying the optimum coating for applications in hundreds of challenging environments isn't for the faint of heart – so start with the best: TST® Engineered Coating Solutions from Fisher Barton.
Ready to take your product to an entirely new level? Fisher Barton has the thermal spray technologies, other surface engineering know-how and materials expertise' to optimize your parts, components, and structures and 'materialize' new coatings solutions that add exceptional value.
Our surface engineering expertise enables us to engineer the perfect coating for nearly any application. There are multiple types of Coating Solutions and we can help you engineer and apply the right one for your specific parts components, structures, or equipment application.
Our coatings are engineered specifically for each application through the utilization of our expertise in materials engineering and our extensive understanding of the different coating methods. Most of our coatings are supplied to original equipment manufacturers (OEM's), on new components produced in medium to high volumes.
Wear Resistant Coatings
No single coatings solution can solve all the many surface wear challenges that result from erosion, abrasion, adhesion, cavitation, and corrosion. Chances are, we've seen it, and solved it, before. We are experts in:
Carbide coatings such as tungsten carbide or chromium carbide, to achieve exceptionally high hardness levels and resistance to extreme temperatures and corrosion.
Metal oxides such as chromium oxide are very hard and exceptionally resistant to chemical attack; an ideal solution for both wear and corrosion.
A variety of other metals and even some plastics to provide wear-resistant coatings.
When engineering coatings to greatly enhance the surface properties of different components,  we use our expertise in materials engineering and combine that with our extensive understanding of deposition methodologies. The combination of this knowledge provides application-specific solutions to our customers' surface engineering needs.
Highly complex components, such as jet engine compressor blades, are coated for wear resistance. Even simple parts, such as bolts used in agriculture combines are coated with carbide coatings to greatly extend the life of the bolts and prevent machine damage from the detachment of high-speed rotating parts.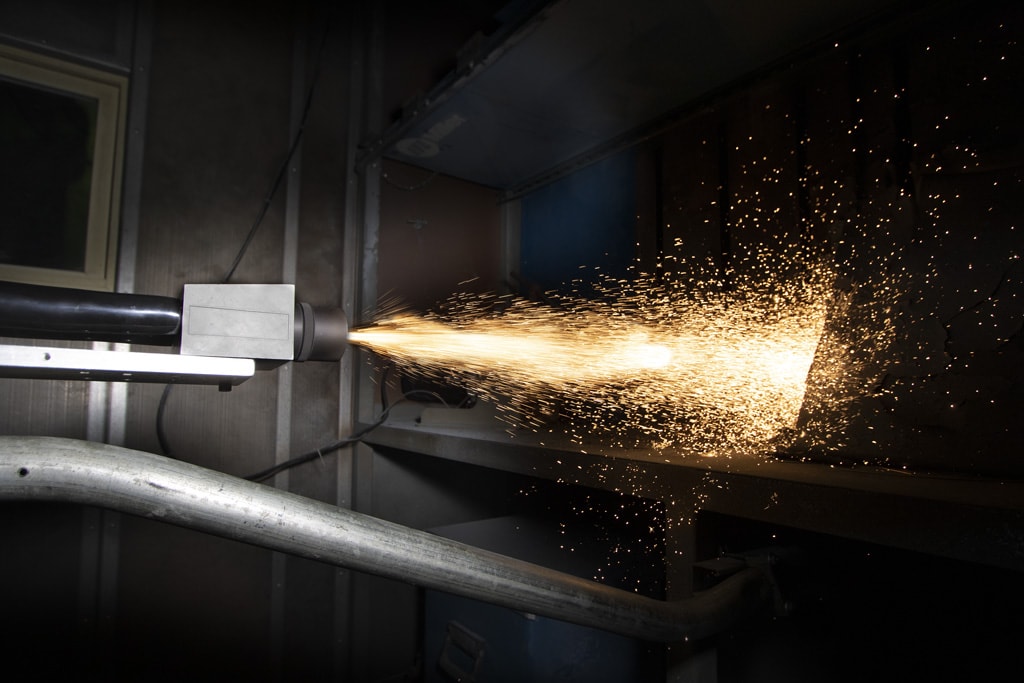 Corrosion Resistant/Protective Coatings
For countless applications where materials such as iron and steel alloys are used and paint alone isn't up to the job, corrosion protection has never been more critical. When working with our technical staff on corrosion prevention solutions, it is very important to understand the environment in which the component is exposed. Our materials engineers use that information to create a corrosion protective coating solution specific to that component's requirements. Our expertise in understanding materials properties and various coating processes will be used to select the best deposition methodology and optimum process parameters. Our coatings include:
Galvanic corrosion prevention coatings: made from zinc or aluminum alloys. These coatings slowly corrode while minimizing the corrosion occurring to the coated steel component.
Corrosion-resistant coatings: Made with nickel-chromium and cobalt-chromium alloys, delivering very low porosity levels. These coatings are designed to provide a protective layer that keeps the corrosive media from contacting the coated base material.
Wear and corrosion resistant coatings: Cermet materials (ceramic and metal) such as carbides with corrosion-resistant metal binders provide both corrosion and wear protection. Oxide ceramics are an option as well, with high hardness for wear resistance and corrosion-resistant properties.
Dielectric Coatings
We're the industry's best source for dielectric coatings with high bond and dielectric strengths, exceptional hardness, and very low porosity. Our coatings have high bond strengths and feature less than 0.5% porosity creating a theoretically dense layer with dielectric strength up to 1,000 volts/mil or greater, and a typical hardness of 1,000 Vickers. These include:
Dielectric coating materials: The most common are oxide ceramics. Ceramics are more durable, wear and corrosion resistant, and have higher dielectric strengths than many polymers.
Substrate materials: Application to almost any metallic substrate as well as composites.
Superfinishing: Our dielectric coatings can be ground, lapped, or polished to achieve a surface roughness (Ra) of even less than one micro inch.
Our dielectric coatings are used for high and low-voltage applications.  They can be applied to an almost limitless number of materials, enabling us to produce dielectric coatings to solve even the most complex electrical challenges.
Our unique materials, parameters, and equipment enable us to produce high-quality dielectric coatings at high production volumes. We also have the ability to apply the coatings to very specific areas of the component.
Electrically Conductive Coatings
Where electrical conductivity is required, we apply our extensive materials and deposition expertise to custom-engineered coating solutions, factoring in operating temperatures, environment, and life cycle requirements.
Coating materials: Materials such as copper, aluminum, and molybdenum are often used, providing the required degree of electrical conductivity. Solutions for high-temperature applications include iron-chrome-aluminum and molybdenum-disilicide.
Substrate materials: Applicable to everything from polymers and composites to ceramics; all designed for various power levels and coating/substrate interactions under power and at temperature.
When engineering an electrically conductive coating we use our extensive materials engineering expertise and understanding the deposition methodology to provide effective custom engineering coating solutions. Operating temperatures, environmental medium, and lifecycle requirements are just a few of the considerations for developing an effective solution for electrical conductivity. The combination of this knowledge provides application-specific solutions to our customers' electrical design issues.
Conductive Coatings can and have been used to create heating elements, slip rings, static dissipative elements, ground straps, flexible circuits, in situ thermocouples, commutator segments, contact points for silicon carbide heating elements, and much more.
FluxFuse®
A Fisher Barton proprietary process, FluxFuse minimizes distortion and warping of components found in typical open-air fusing, while providing consistent, uniform fusing conditions for adhering thermal spray wear coatings to the component base material.
Superior fusing of a wear coating results in a much stronger coating bond and, ultimately, increased wear component performance and durability. Combining Fisher Barton's patented MARBAIN® base material with FluxFuse combines the best of the materials and coatings worlds, offering a world of new opportunities for longer life and improved performance.
FUSIONbond®
A TST proprietary post coating heat treatment done in controlled atmosphere to promote coating diffusion into the coated component to create a metallurgical bond and promote diffusion within the coating almost eliminate coating porosity. The FUSION bonded coating with its tenacious metallurgical bond can withstand high impact, and the high-density coating provides enhanced wear and corrosion resistance.
TST proprietary
Just like the diverse array of deposition methodologies, so too are the types of materials that can be used to produce Coatings, and the materials onto which Coatings can be deposited.
At TST we have the philosophy that the imagination is the only limitation to what can be produced.